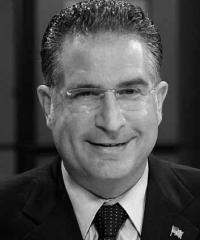 Rep. Joe Garcia (D-FL)Heritage ActionScorecardRep. Joe Garcia
House Democrat Average
See Full Scorecard9% is one of the most vulnerable incumbent Democrats this election cycle. He represents Florida's 26th Congressional District, the southernmost district in the state and one with a Cook PVI of R+4. Republican challenger Carlos Curbelo is giving Garcia all he can handle and then some, so it's not surprising that Garcia might resort to some dirty politics to try to save his career. In this instance, it is alleged that the Garcia campaign used two members of the George Washington College Democrats to sign in a tracker to attend a private speech given by Curbelo to the school's college Republicans. As the GW Hatchet notes:
When the GW College Republicans hosted Florida congressional candidate Carlos Curbelo on Sept. 18, two members of College Democrats reportedly helped sign in a tracker, whose job was to take a video of Curbelo's speech in case he slipped up. CR Chairman Alex Pollock said the tracker worked for Curberlo's rival, Rep. Joe Garcia, D-Fla.

The video taken and and later published the next day in the Miami Herald showed Curbelo criticizing Medicare and Social Security, calling them "Ponzi schemes." Garcia has now used the remark in an attack ad against him.

The tracker was signed into Thurston Hall by a student with a GWorld card.

[…]

The two students, whose names were not disclosed by the University, had worked on Garcia's campaign over the summer as trackers themselves, [College Democrats President Connor] Schmidt said. Garcia had come to speak to the College Democrats the previous evening, and after he spoke, members of his campaign approached the two students, asking them to let the tracker in the next day, Schmidt said.
Trackers can create real problems for campaigns.* This speech by Curbelo was intended to be private, and the students in attendance identified both themselves and their majors before he spoke to them. If video of this gets out, it ruins the ability of the College Republicans to say they can provide a private opportunity for a candidate to speak, and it also places the identities of the students at risk.
This isn't the first time Rep. Garcia has been at the center of some "dirty politics" allegations. His former campaign manager Jeffrey Garcia (no relation) has served time in jail for a voter fraud scheme involving …read more