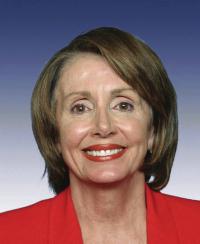 When I first ran for Congress in 2010, I campaigned on the slogan "Enough is enough." Enough of the reckless spending. Enough of federal bureaucracy. Enough of health care that drives the costs to consumers. Enough of excessive federal taxation. Enough of the policies that resulted in the Great Recession, which caused some businesses in Northern Michigan to downsize their staff and others to shut their doors completely.
My kids and grandkids deserve an America that's better than the generation before them, so that they can have the same opportunities I had growing up in Northern Michigan and achieve their own American Dream.
Four years later, I still believe in the same things. But thanks to a Senate that hasn't touched hundreds of jobs bills – many of them passed near-unanimously by the House – and a President whose policies have resulted in an economy that's still struggling, there's still much more work to be done.
Health care costs are still too high. Opportunities for well-paying jobs in Northern Michigan – and across the country – are still too low. Thousands of new regulations get added every year. Federal bureaucracy has run amok. Even our nation's veterans have faced treatment that is a disgrace to their honor and service.
It's been a difficult few years under this President, but allowing the Democrats to control all three branches of government, like they did when they gave us Obamacare, would be catastrophic. We need to unite to ensure that the Speaker's gavel stays out of the hands of Rep. Nancy Pelosi (D-CA)Heritage ActionScorecardRep. Nancy Pelosi
House Democrat Average
See Full Scorecard9%, so that the House can continue to stand up for conservative values.
That's why I appreciate the endorsement from Tea Party Express, who was there the first time I ran for Congress.
"He has stood firmly on the side of his conservative beliefs and has pursued bold policies to get our economy growing again," Tea Party Express Executive Director Taylor Budowich said. "Our support for Congressman Benishek is unwavering because his commitment to reducing the size, cost, and intrusiveness of the federal government is unwavering."
Those principles, along with supporting life and the 2nd Amendment, are issues every Republican can and should get behind. And I will continue to do everything I can to ensure that those principles are reflected in the bills I support.
I also sincerely appreciate the support of …read more