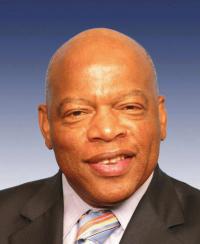 Virtually all of the black leadership in the country today came of age in the civil rights movement of the 60's. From Jesse Jackson to Rep. John Lewis (D-GA)Heritage ActionScorecardRep. John Lewis
House Democrat Average
See Full Scorecard11%, this was their launching pad as they began their ascent into national prominence. Simply put, it made them.
For decades since, they have defined their importance in the civil rights hierarchy by their proximity to Dr. King. And they have continued to usurp the stage, keeping a younger generation of black leaders from finding their own platform.
There were many incidents, some violent, some peaceful, during that time, but there were three very significant events that truly galvanized the nation:
1. The murder of the three young civil rights workers, Michael Schwerner, Andrew Goodman, and James Earl Chaney. Their story was depicted in the superb film, "Mississippi Burning."
2. Dr. King's moving "I have a dream" speech" in Washington, before hundreds of thousands at the Lincoln Memorial.
3. Selma, Alabama
Of the three, I suspect that most of the country born since then will recognize the name, but are not really aware of what happened there.
Your ads will be inserted here by
Easy Plugin for AdSense.
Please go to the plugin admin page to
Paste your ad code OR
Suppress this ad slot.
Simply put, it was the last, blindly stupid attempt by the old-line racist ( and nearly 100% Democrat south) to continue to suppress the rights of blacks.
On March 7, 1965, some 600 marchers left Selma en route to the state capital. Marches were an effective method of calling attention to the issues. The peaceful marchers were met by the police and state troopers with tear gas, billy clubs, and dogs. Some police were on horseback, and used whips on the marchers. It was a carnage. And the pictures and film swept the nation. It was front page news for days. It was the only story on the TV news.The rest of the country finally realized what had been occurring in the deep south for almost a century.
Watch the clip, and imagine the impact it had on the national consciousness:
The importance of Selma can be found in that some five months later, the Congress passed the Voting Rights Act.
There is much that is wrong, and even unconstitutional, with the VRA, but after Selma, it was nearly impossible to oppose the bill.
And with it, the entire modern Civil Rights "establishment" and its leaders was born.
The VRA gave us "majority-minority" districts..and a …read more